First Time Instructions

Live Assistant Pro requires the following:

A) Facebook Business Page: sometimes referred to as a Platform. Any live using Live Assistant Pro must start on a Business Page, then can be shared by you or others to your personal newsfeed/page, other business pages, and groups. Anywhere the live sale is shared, Live Assistant Pro will manage those sales. but the live must start on a business page.

If you would like to practice going live without starting on your page, or perhaps you don't have your own business page and just use other people's pages for going live, we understand. At LoyalShops, we have several test business pages. If you wish, we are open to giving you rights to one of our test pages, and you can test out Live Assistant Pro on one of our pages and away from your customers on your business page. Then when you have practiced, you will be ready to hit the ground running on your own page or someone else's platform knowing all the basics. If you wish to do this, send a friend request to
https://www.facebook.com/GElsasser/
and PM me asking to be added to a LoyalShops Test Page. I will then accept your friend request and give you rights to one of our test pages. You will receive a Facebook Notification with us giving you that access, and you need to accept that. Once that is done, you can add that page to Live Assistant Pro and use it for testing whenever you wish.
B) Two modern internet-connected devices - Often a Computer for Live Assistant Pro and a Phone for your Facebook Live.
Most retailers will use two devices during a live using Live Assistant Pro. Most often, a PC or Mac is used to run Live Assistant Pro in a browser, and we recommend Chrome as your browser. Then you use a second device, often a phone, to run the live. It is possible to run a Live with one computer, using two SEPARATE windows side by side (one for Live Assistant Pro, one for your Facebook LIve). It's also possible to use two phones, two tablets, etc.
We recommend using Chrome as the most compatible web browser we have tested on all platforms. We have tested Shafari quite a bit as well positively. We do not recommend Internet Explorer, Edge or Firefox. We recommend you have your device powered on AC (not on battery power) and have power management disabled on your LIve Assistant Pro device so it doesn't accidentally go to sleep and stop tracking. For an iPhone / iPad, it's Settings / Display & Brightness / Auto-Lock / Never. For PC / Mac, it's Settings / Control Panel, Power, and on the AC Power power management option, turn the screen and sleep off or to multiple hours.
C) Barcode Scanner - Live Assistant Pro can help you set up and sell your inventory with the barcodes Paparazzi already placed on your jewelry. We can identify the type of jewelry like ring, bracelet, necklace, Zi Collection, BlockBuster, Necklace Set, Custom Sets, prices, and often the color(s) for the item from the barcode, so there is no need to load up inventory. We do have an option to Pre-Install inventory, but the key reason for that is to tell us how many of each item you have for sale on the live, change the item number/claim number to perhaps a number you use to inventory your products like E100, N200, B300, etc. That way, your inventory positions can be your claim numbers assuming they're easy for a customer to remember for claiming. Sold E100, for example. It is possible to hand type in barcodes, but we highly recommend using a barcode scanner as they are much faster and less prone to errors, and you can focus on selling versus typing in barcodes.

Budget Pick -
A good barcode scanner that is quite affordable at around $35 is the
Netum Bluetooth Barcode Scanner Model NT-122BBC.
https://www.amazon.com/gp/product/B07CBRTWS5
This barcode scanner includes Bluetooth for connecting wirelessly to phones, tablets, and recent Bluetooth-enabled computers. For older computers, there is a USB wireless adaptor included that adds wireless to the computer and allows connectivity as well as a cable for hard connection via USB and recharging.
I've tried out both of these on Paparazzi barcodes, and they both work well.
Log into loyalshops at www.loyalshops.com/login; then go to the Live Assistant Pro menu, then click on the Live Dashboard sub-Menu.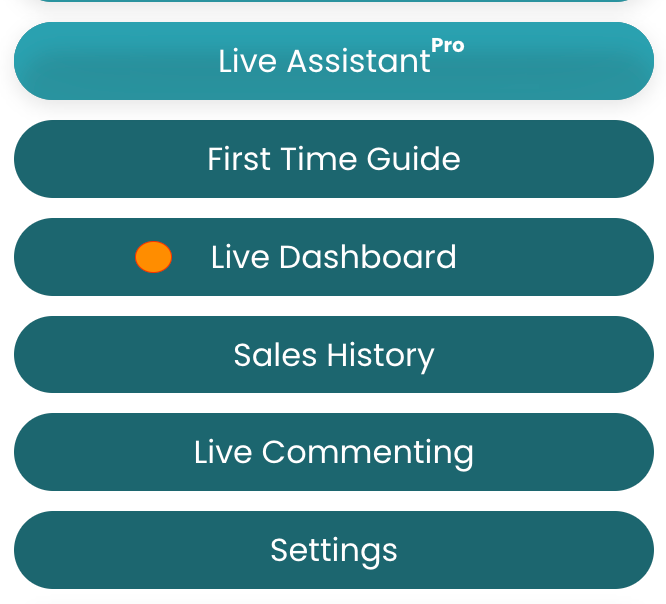 2) Pre-scan Inventory - If you wish to input. Adjust pre-inventory, then enter Pre-Inventory by Barcode or CSV Import. If this is your first time walking through setup, I would skip this step and come back to it after you have set up Live Assistant Pro one time.

You may see Live Assistant Pro needing to Log into Facebook. Make sure you log in with your account with admin rights to the Business page you wish to go live in. If you have already logged in to Facebook, click on the Blue "Continue with Facebook" Button.

NOTE: If you are a Paparazzi Retailer and you don't see the "Optimized for Paparazzi Retailers" at the top of Live Dashboard, please stop and go to Settings / User Settings and change your company type to Paparazzi as that company choice also makes feature changes in Live Assistant Pro to optimize the experience for Paparazzi. Once done, come back and complete the instructions.
3).
Next, Facebook will ask you to Continue as your Facebook Profile.
The name you see is very likely your name; this is correct for it to list your name, not your business page name.
If it is the correct profile that has Business Page access, choose the Blue Continue "Profile Name" button.

Not Your Name Listed?

If that name there isn't your name/profile that has admin access, exit this setup, log out of Facebook on any browser and app on the device, then start over with this setup, and you can log into your correct Facebook Profile with Admin access to a business page.

4) Choose Facebook Business Pages To Go Live On
(You can add more pages/platforms at any time)
Facebook will now ask what pages LoyalShops Live Assistant Pro can access. We recommend selecting all of them. We only access a page you choose inside our software, but if you leave off a page in this setting, then that page will not be accessible at all inside LIve Assistant. So Selecting All is the most flexible and approves us to have access to your email address as well (but if you are positive there is a business page you will never want to sell it, you can uncheck it here, and Live Assistant Pro won't be able to access it). Choose the Blue Next Button after hitting Select All and making sure the business pages are selected. Again, if you don't see your business page on this list, you are likely on the wrong Facebook Profile, log out of Facebook and start these instructions over, or you need to ask permission to become an Admin of the Business Page you want to go Live on. Sometimes we find another family member or friend who made the business page, and the retailer isn't an admin in cases the page is missing from this list. If you're going to go live on a shared page/platform, they will give you permission just before your live starts, and we have another help page for Adding a Business Page / Platform to walk you through that just before you go live.

5) Permissions - Just leave as yes
- Next, Facebook asks for Live Assistant to have permission to receive your email address, manage your page and publish it to your page. These must all be YES for Live Assistant to function. Verify all settings are switched to YES like in the picture below, then choose the blue DONE button.
6) Congrats
, FB Setup is completed, click the Blue "OK" button.
7) START LIVE ASSISTANT PRO -
After following the Facebook approvals, It will take you to a page to choose your Page / Platform you're going to go Live on. Use the drop-down "Choose Page / Platform" menu and choose the business page you wish to go Live on.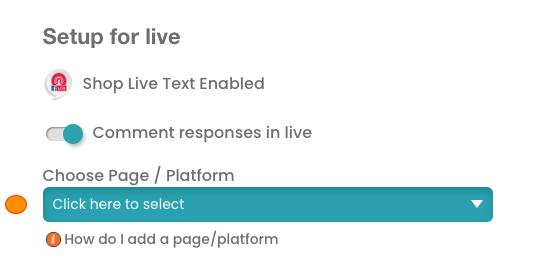 Business Pages can either be your own business page or other retailers' or business owners that specialize in sharing pages with other retailers to build it up larger and rent out the page by the hour for live selling. These shared Facebook Business Pages are often referred to as Platforms. Live Assistant Pro treats Shared Pages / Platforms a bit differently as many retailers may overlap their lives and can conflict on occasion.
For individual retailer pages, we allow a retailer to choose for Live Assistant Pro to wait for a live to start, and then it automatically starts when the live does. That feature looks like the picture below:

Once the Wait for Your Live Option is chosen, you will see the below screen, and Live Assistant waits for you to start your live, then will wake up and help you.

At the top of the page is a circular business page icon showing you the icon for the current business page you are on. If there is a teal ring around the page icon, you are not live, and if the ring is red, you are live. You can also click on this page circle if you choose to change the page or stream choice.

For Shared Pages / Platforms, there is no "Wait for your Live" option, just choosing a currently running live or connecting to posted video. This difference prevents one retailer from waiting for their live to start with their LIve Assistant Pro, then another retailer starting their live first, thus connecting to another retailer's live service.

When we identify a Shared Platform chosen, we display this icon, and the Wait For Your LIve feature is disabled. Instead, you will start your live first, then choose it from this page when it appears.
Either start Live Assistant Pro just before you go live, if the Wait for Live To Start is an option, or choose your live in Live Assistant Pro shortly after you live starts. If you wait many minutes after your live starts to start up Live Assistant Pro, it may take a bit longer to catch up as it starts reading comments from the beginning of the live.
9) Running a LIVE with Live Assistant Pro
Once your Live is Up and Running, Your screen should switch to your Live Dashboard mode, and you will see the circle profile icon has a red ring (Connected to your Live), states, "Live Assistant Pro is ready for your first Claim!" and your initial Welcome Comment drops into your live. These changes show you are ready to start selling! BTW, the initial comment post is fully configurable on the Live Assistant Pro Settings Page.

Live Assistant Pro supports Barcode Scanning to pre-load / configure items as well as identify products for sale during the live. But you can also scan new products, but it defaults to qty 1 and our standard easy-to-claim item numbers.


If you see a red rectangle around the SKU or Barcode box, it means that the Live Assistant Pro window has lost focus (you likely clicked on another window). You can't enter barcodes in Live Assistant Pro when the red box is visible. Just click back into the Live Assistant Pro window to remove the red box and continue scanning your next item.

Once you barcode scan your first item, you should see a screen similar to this:


This example product loaded is a Zi Collection - Necklace and Earrings. It's the Danielle - White, Silver for $25.00. It was given the simple item number 88, and there is currently a set inventory level of qty 1 available.

Live Assistant Pro will also comment on the product details in the live as the backup to your verbally telling them about the product, price & claim number.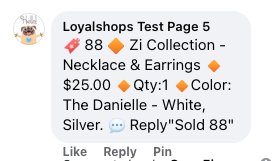 Top right, you see that there are 0 items in the cart and $0 in the cart, this increments as you gather customer claims in real-time.