ConsignPro with Live Assistant Pro
Live Assistant Pro now supports importing ConsignPro Inventory using
Consign Pro version
11.15 or later
. We support both Online Stores with pictures and full store inventory without picture imports as well. Both include the consignor charges in the pricing. These imports will include the product details, pricing with consignor costs, and the barcode. This will allow you to use a barcode scanner with your ConsignPro inventory tags to sell products Live.
Connecting Live Assistant Pro & ConsignPro
Once you have a Live Assistant Pro account, connect Live Assistant Pro to your ConsignPro Inventory by adding your ConsignPro BK number into Live Assistant Pro Settings.

1) You can copy your ConsignPro BK number in your Consign Pro software under the Internet Store ID on the bottom center of the page (BKXXX). Everyone has a BK number, even if you don't have an online store with ConsignPro. Copy or write this number down.

2) Go to your LoyalShops account and go to Live Assistant Pro / Settings menu. At the top of the Settings page, you will find the Visual Horizons - ConsignPro section; please enter your full BK number with BK included in the Teal entry box. Then choose Save at the bottom of the page.


That completes the connection between Live Assistant Pro and ConsignPro.

Store Inventory Loading

Live Assistant Pro / Live Dashboard is the menu you choose to go prepare for an online sale. The first thing Live Dashboard will do to prepare for a Live is to download a fresh copy of your inventory. This can be completed in two different ways:

3) If you have an online store with ConsignPro and wish to use that inventory, just run Live Dashboard, and it will automatically download your Online Store Inventory. Pros: It will include pictures of your items. Cons: Your Online Store may not have 100% of your store inventory, so Live Assistant Pro will only recognize your online store inventory.

4) Full Store Inventory - It is also possible to download your full store inventory into Live Assistant Pro, including your Consignor costs included - requires ConsignPro
version
11.15 or later.
A) Go to your ConsignPro Software - Above the Main Menu, choose Internet.

B) In the Internet Menu, choose "Build LoyalShops CSV".

C) Go to Live Assistant Pro / Live Dashboard, which will automatically download your full store inventory.

Note: Live Assistant Pro will look for the latest Full Store Inventory update less than 24 hours old. If this fresh copy is found, it will be automatically downloaded. If the file is older than 24 hours, we will notify you by a pop-up that the CSV is old; you can then choose to continue loading it or close this window and repeat steps starting with A) above to download a fresh copy.

5) For both Online Store and Full Inventory Loads, please wait for the Inventory to load before continuing on to the "Continue with Facebook" prompt. You can review your loaded inventory right below the "Continue with Facebook button and scroll within the inventory area to see all your inventory.

This concludes the ConsignPro configuration and loading of inventory. You can now continue with your live preparations as per our
Live Assistant Pro - First Time Guide
. Once your live has begun, you can use a
Barcode Scanner
connected to your device running Live Assistant Pro to scan those items and sell them on your Lives. If you don't have a Barcode Scanner and need one, we have tested and like several affordable
Barcode Scanners,
though any modern available barcode scanner should work fine.
After the Live Sales

LoyalShops is working on an Auto-Invoicing Optional feature for Live Assistant Pro. We target that feature to become available by the end of October'22. Once that is done, your sales can be auto-invoiced through a Square account.
We only download the inventory from ConsignPro to Live Assistant Pro; we do not notify Consign-Pro of what items have been sold. As more ConsignPro users start using Live Assistant Pro, it could be possible for LoyalShops and Visual Horizons to work further together and mark items in ConsignPro as sold. This could be a possibility for a future release.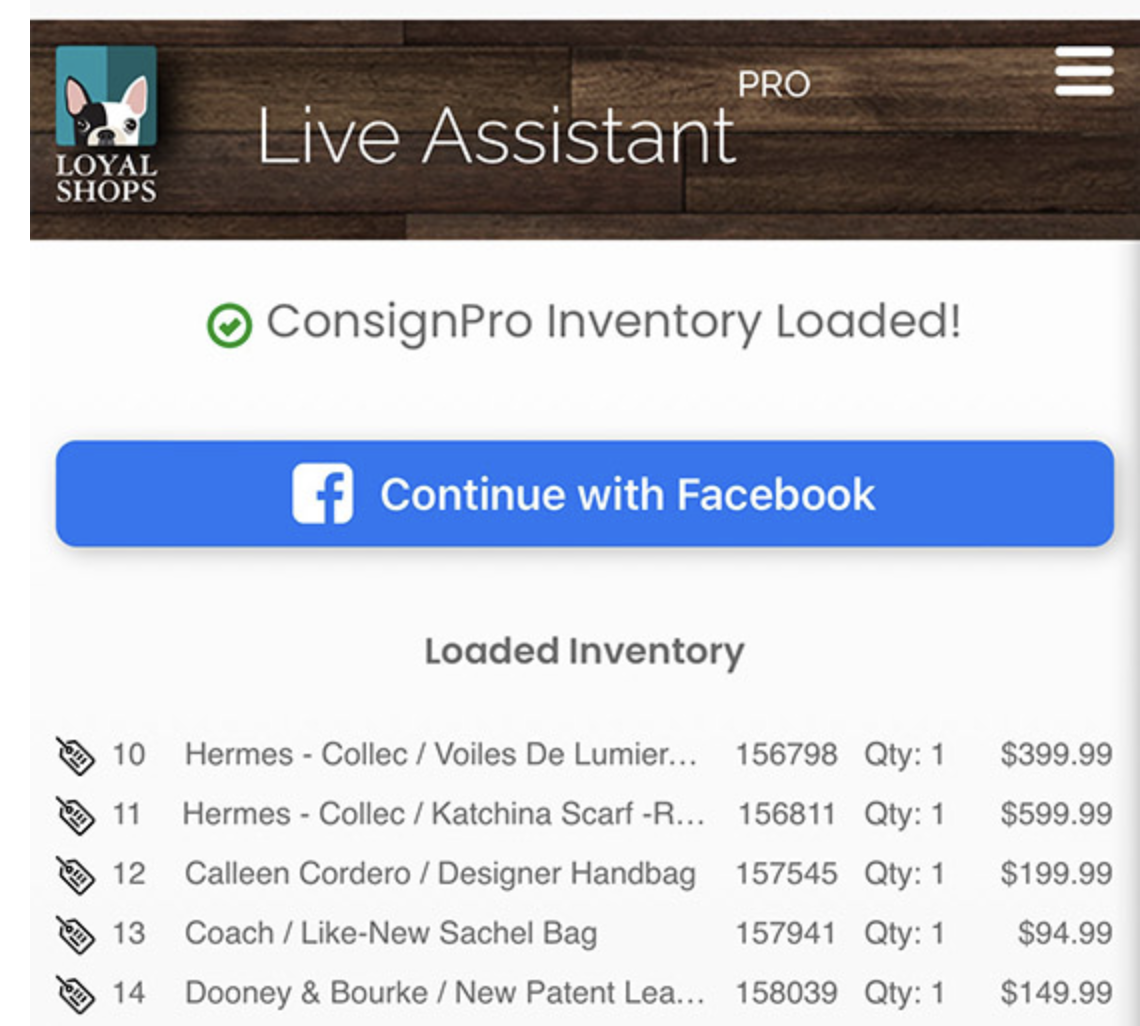 Best wishes,

LoyalShops Team

949-614-5650 Pre-Sales & Support Calls