How to Text Opt-In or Add Customers To LoyalShops Texting

There are several methods to have customers sign up for your LoyalShops Texting Service.

Under the Texting Menu is a Grow Subscriber sub-menu and there you will find methods for importing customers to your texting service including by keyword (having customers send their keyword to your texting number) and a basic text opt in page. Below is an example of what you will see under the Grow Subscribers menu, but tailored for you.


We recommend building a Text Opt-In Page with our registration tool as you can tailor it specifically for your brand and your messaging. We are happy to help build the initial version of your Text Opt-In registration page for you at no additional charge. Then if you wish, you can choose to modify it at any time to better fit your business personality and add/change features like offering a gift when customers register.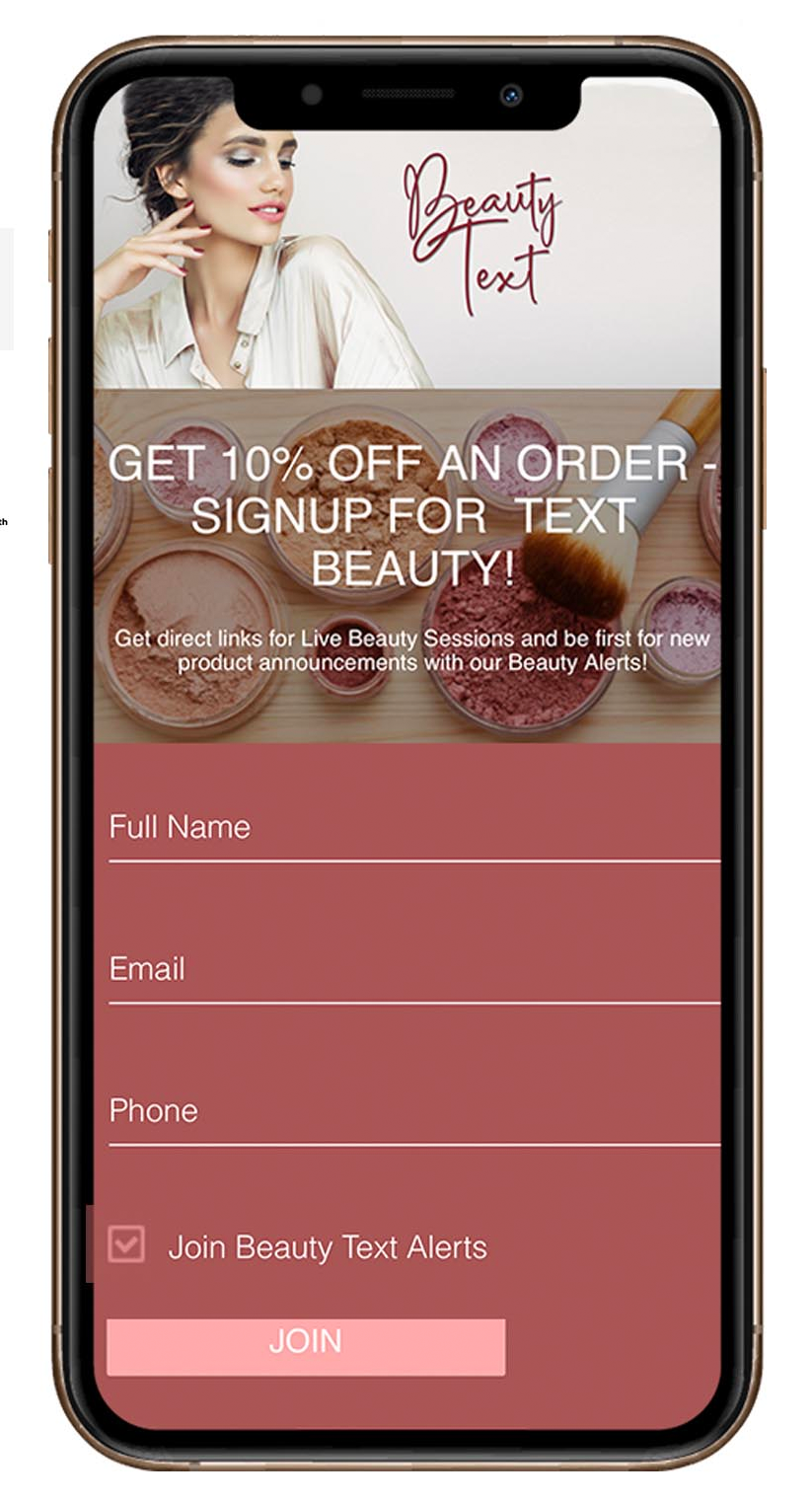 So we recommend building a registration page with our Landing Page tool. You can create many of these pages and they are relatively easy to build. You can then share these registration pages anywhere including in Live Assistant, Facebook, on a LinkTree Page, in Invoices, etc. If you would like help, we are happy to help build a registration page for you, for no additional charge. Just email us your logo (if you have one and please use the best quality one you have) and the web address (URL or www.) address of your Facebook Business Page and/or webstore, link tree, or another site. (we use a link so when customers finish registering, we can send them to your site. Send this content to
support@loyalshops.com
and mention in the subject you wish us to build you a Text-Opt-In Registration Page
. Normally we can turn these around in under 24 hours.
If you don't have a logo, let us know two colors you like for your business (use descriptive color names like hot pink or sky blue, versus pink and blue so we can get closer on the hue. Also, if you have an Instagram link, link tree, and perhaps a website store, include those links as well. It also helps to mention to us in the email what are the key reasons you are using Text Alerts (Live Sales Alerts, Store Sales, New Product Announcements, etc. Even optionally what sentence you would like mentioned on the page. You can always. add/change these details at any time. But the more information you give us, the better job we can do for you.
If you're emailing from a different account, then your login email for your LoyalShops account, please include your LoyalShops email (not password), so we can find your account.
Once we receive your email with your branding information, we will email you back when it's completed.


Learn More About Creating Your Own Landing Pages

If you would like to capture customer information so that you can email and invoice them, then you want to create a Landing Page with a Customer Input block in it.

1) In the Landing Page Menu, choose to create a new landing page. Give it a simple and easy for your customers to understand name like "registration".

2) We have blocks of functionality for a Landing Page. Usually, for a Registration page, you may want your Logo, then a text box that asks you to register, and a customer input block where you can choose what customers input to capture like name, email, phone, and address as well as a Text Opt-In selection.

3) Review the Anatomy of a Landing Page to see how the blocks of functionality, turn into a registration page. The picture shows that our Landing Page Service has blocks of functionality like adding a picture, adding some text, and capturing customer input like name, and phone number with text opt-in choice. You choose the blocks of functionality you wish to add, rearrange them if you need to, configure them with the settings and tabs of options. Then there is a Preview button top right to see how the page looks before saving. If you get close, but can't quite get it to look how you want, send us an email at
support@loyalshops.com
with your landing page link and any trouble you are having and we can help you adjust. your page to get closer to your wishes. It's also often helpful to include any resources like your logo and pictures in the email you send us.
4) As you create your landing/registration page, there is a PREVIEW button in the top right corner so you can see how it's going to look in real-time.
5) You will also find on the Landing Page setup screen setting the Page from Draft to Live.

6) Just under the "Your Pages URL" section is the Page Status - set this to Live.
7) Copy the URL for your Landing Page so you can share it:

8) Remember to save or update your Landing Page at the bottom of the page:

9) You will have two links to your page. In the examples below (not your page links), you see Custom URL and Default URL. Please notice, the word Demo in this example of the Custom URL represents Your KeyWord you choose in the Texting Dashboard. So if you wish to change this part of the URL, change it in the Texting Dashboard (Your Keyword) spot. Also realize if you change your keyword, that any Landing Page you built, will also have their URL changed to match, so update any social media where you may have already shared this link.

The Custom URL is great to share anywhere where you just paste the link, like in a post on social media.

The Default URL: This link is not as custom branded, but can work better when you have any issues with the Custom URL or if you put want to put your link behind a button, like on a LinkTree Page.

Both Links go to the same place, but in certain circumstances, the Default URL may work better.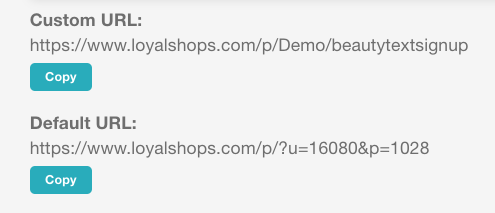 Creating An Incentive For Customers To Register
If you would like to give a stronger reason for customers to register, like offering them a coupon code, follow this link to learn how to offer a gift on the registration page and lead them to a second landing page we call a Confirmation Page, to give them that coupon once they have registered. A Confirmation Page is just like a Landing Page, except we hide Confirmation pages from search engines like Google, so it's not easy for them to discover any coupon codes your offering without registering first.