Getting Started with LoyalShops Texting
LoyalShops Texting is capable of being used in all our subscription options including a Texting Only subscription. When you first open up our Texting Menu, you will find two menus are enabled. Authorize Texting and Texting Features. Texting Features will give you an overview of the capabilities of LoyalShops Texting. Authorize Texting is needed to enable your texting service. We ask for a marketing website of yours like a web store URL or Facebook Business Page we can view. This helps us validate your company and avoid criminal attempts to use our services.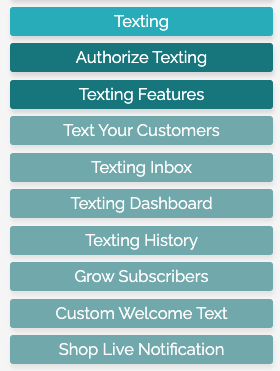 A) To Start out, we recommend you go through the Texting Features page for an overview.

B) Next, go to Authorize Texting and read the requirements to text with LoyalShops Texting and send us one of your marketing site URLs. We will review your business and then approve your company for texting. In most instances, this process will be completed within 30 minutes. If we haven't approved in that period, you can click through the process once more to send us another request. While your waiting, you can still explore the features in LoyalShops Texting but are limited to sending texts just to yourself for testing. Once you are authorized, we will allow you to have customers opt-in or you can import a list that you have Prior Express Written Permission to add to your texting service or transfer from an active another texting service.

note: Do not import customers into LoyalShops Texting without their permission as that is against the law and can result in penalties including up to $500 per text sent without permission.
Authorizing Texts doesn't add any costs to your account, so feel free to authorize texting and try it out by sending texts to yourself if you want to understand and see it working.

C) Once you complete the Authorize texting, even if you haven't been approved yet, next go to the Texting Dashboard.

TEXTING DASHBOARD - GETTING TO KNOW TEXTING DETAILS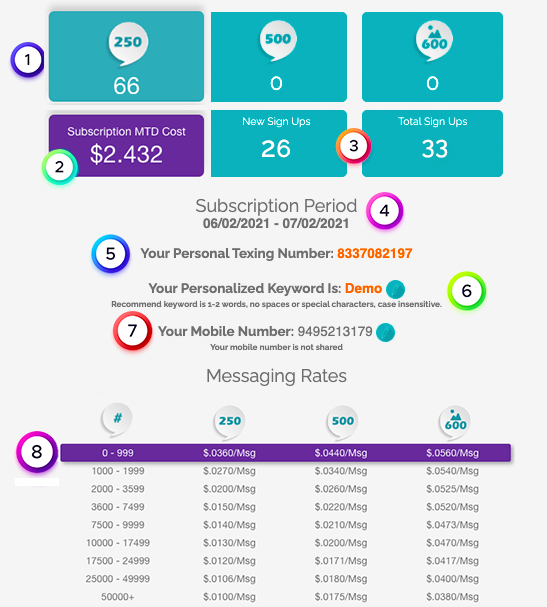 Item (1) - We have three message types, SMS 250 with 250 characters max with emojis, SMS 500 with 500 characters with emojis, and MMS 600 with 600 characters with emojis and a picture. You can choose each time you send a message what type of text you send based on your need/budget. This shows you how many of each type of text you have sent during your current (4) Subscription Period.
Item (2) Subscription MTD Cost - How much your texting bill will be at the end of the month if this is how many texts you sent this period. Also notice that in this example it's a deep blue and so is the Message Rates Bar (8) below. This shows that the current text rate in this example would be $.0360/Msg for an SMS 250 message or 3.6 cents per SMS 250 message (purple bar). Once you have sent 1,000 texts (1 customer sent a text equals 1 charged text), your rate for all SMS 250 messages for the subscription month would drop to $.0270 or 2.7 cents a message. Each time you move to a new volume tier, we move the bar down, change the color for that bar, and in the MTD box as well to match and ALL your text messages sent that subscription month is priced at the new lower rate. We hope that this easily lets you see where you are with your texting bill at all times and you can see where your next volume break is on texting. With LoyalShops, we don't lock you into a fixed monthly rate that ratchets you up when you go over your plan's limits. Instead, you just pay for what you use each month and as you send more, we give you volume discounts for the full subscription month. A message counts per message to a person, so if you sent to a list of 10 people, one message, that would be 10 texts sent and counted for charging. At LoyalShops, we are charged by carriers and the government for every business text you send, so we feel it's a fair model for you to just pay for the texts you send.
Item (3) shows you how many have opted-in this month and how many are currently opted into your texting service.
Item (4) Your Subscription Period is based on when you started your subscription and covers approx month-long periods. At the end of each subscription period, you are charged for any texting you have used in the concluding subscription period and if you have a monthly subscription, you are charged for the next subscription period.

(5) Your Personal Texting Number is your unique texting number. Your customers once opted in will receive your messages from this number. Customers can also send "Your Keyword" to this number to Opt-in. For example, in the above demo account, you would send "demo" to 833-708-2197" with their text messaging app. This is one way for your customers to Opt-In to your texting and you can find more ways in the Texting / Grow Subscriber menu. You can send to customers on this texting number from the "Text Your Customers" menu to send to groups of your customers like "All" Opted-In, or "Shop Live" as a default list for Live Shopping, or "Just me for testing". You can always send it to the "Just me for testing" list for no charge. We will send it to your Mobile Number as a test.

(6) Your Personalized Keyword - This is best to be one or two words, and can't have any spaces or special characters to help identify your business. Customers can text this keyword to Opt-In to your texting business. When they Opt-In to your texting, the service will reply back with a legally required welcome message that includes "Welcome to KEYWORD Notices". Your Keyword must be unique inside of LoyalShops, so it's possible, your first choice may already be taken. Try and choose a word(s) that are easy to spell and your customers will likely recognize as attached to your brand. You can go to Texting - Custom Welcome Texts and further customize that Welcome Text to include more branding, perhaps include a coupon as a thank you, etc. We usually default this keyword to your first and last name or company name based on the initial setup. Change it to what you wish from available options. Also note, we have helpful web pages like Landing Pages for Text Opt-In. These pages will use your Keyword as part of the URL www address. So note that changing your keyword will affect your texting and any landing pages you have created in our service.

(7) Your Mobile Number - Please put in your Mobile/Cell Phone Number. This number is used for sending you test texts and this number is not exposed or shared with your customers.
(8) The Message Rates Table shows what your current SMS 250, SMS 500, and MMS 600 costs per message are based on the volume you have sent in the current subscription month. Also, see item (2). The rate highlighted by the colored bar will apply to all messages sent that subscription period (4).
TEXTING DASHBOARD - SUBSCRIBERS LIST

You can add texting customers if you have their permission in two ways in the subscriber section. From Google Sheets with the orange "Import Google Sheets Customer List" button or send your list to
support@loyalshops.com
clearly stating you have permission to text this list and we can do it for you. There is also an "Add A Customer" button if you need to add one or a few customers to your texting service manually. The OptIn Status is the column that shows customers are Opt-In to your texting service. The other columns to the right are Texting Lists. You can have up to 15 lists and you and the customer can add/remove from these lists as needed. Customers that have Opted-Out can be found by clicking on the Opted-Out button.
TEXT YOUR CUSTOMERS - SENDING YOUR FIRST TEXT

D)
Switch to the Text Your Customers Page under the Texting Main Menu. The Text defaults as an SMS 250 text as the lowest cost text we send. As you can send 250 characters plus Emojis (versus just 70 characters with other text providers when using emojis, we think the SMS 250 will be by far used the most often as it's very usable for everyday needs). Note: depending on the emoji, some emojis will take up more than one character count. Typing over 250 characters will automatically move the message type to an SMS 500 message which will cost a bit more. If that wasn't your intention, you can shorten your message and once you are back at 250 characters or lower, the text will spring back to an SMS 250 message. Adding a picture to a message will automatically switch it to an MMS 600 message.
Once you have sent messages, you can use the "Select a previous text to use" pull-down to choose a previous text as the basis for your new text.
Enter your text message in the main teal box where it states "Enter Message Body Here". The Greeting and Signature areas are optional Prefixes and Suffixes for your texts. Whatever you choose to put in these two areas is persistent. Next time. you come to this page, those entries will still be there (until you choose to delete them or change them). Many people will put their Store name in the Greeting Area and/or put in a standard closing thanks note. This is just an optional way to have some consistent branding with all of your texts. Right below the Signature box shows you the message type currently being used and how many characters remain before that message type is full.
You can click on the photo area to bring up a picture picker box or you can drag a picture into the picture box area, if you wish to add a picture to your text, thus creating an MMS 600 text.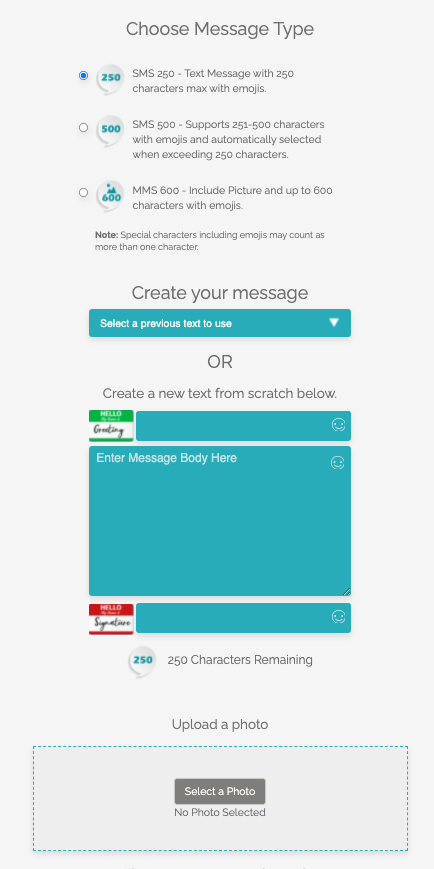 Finally, you can choose a list to choose on who to send to. As you choose a list, you can see how many customers are on that list and will be sent that text. The default selected list is always "Just Me For Testing", so if you accidentally send it early, it just goes to you. If you do send a test text and it looks good, you can bring back that previous text from the "Previous Text To Use" pull-down and then send it to a customer list.
You can send your text right away with the "Send Text Message" button or Schedule it by choosing a Date / Time in the future and hitting the Schedule Text button.

The Reply STOP 2 quit or HELP is a message that is required at least in one of your messages each month but not required in every message. So if you need to squeeze a 250 character message, you can remove that message, but please add it back at least once a month for regulatory texting compliance.
If any customer replies STOP, that ceases all text messages from your Texting Number to them. They should reply "UNSTOP" also to your number if they change their mind or did it accidentally.

How To Add Customers To LoyalShops Texting
Please click to review another help file on how to add customers to your new LoyalShops Texting Service