This process requires a Loyalty Rewards Pro or ReplySOLD + Loyalty subscription and for you to have Admin access to the Shopify Store you wish to connect to. Unlike our other Autopunch methods, Shopify does not require a Gmail email address. If you have a secondary Point Of Sale Solution, Shopify and that secondary Point Of Sale System can co-exist.

BEFORE YOU CONNECT YOUR SHOPIFY STORE, CREATE / ADJUST YOUR LOYALTY PROGRAM
Under the Loyalty Menu, create your loyalty program, choose punches or points, discount rules and save your program. We believe Points are more powerful as they balance the loyalty program for customers that buy a low-end product similar to those that buy high-end products by giving loyalty based on dollars spent, versus items purchased. If you have questions on any of the Loyalty Settings, Need help getting your logo looking good on the loyalty card, feel free to chat, email support@loyalshops.com or call 949-614-5650.

Once you are comfortable with the settings of your loyalty program, you can proceed to connect your Shopify Store.

1) Go to the Autopunch Dashboard (under Dashboard menu) and ensure that AutoPunch is Enabled - See Item 1) below.

2) Click on the Setup Shopify AutoCount button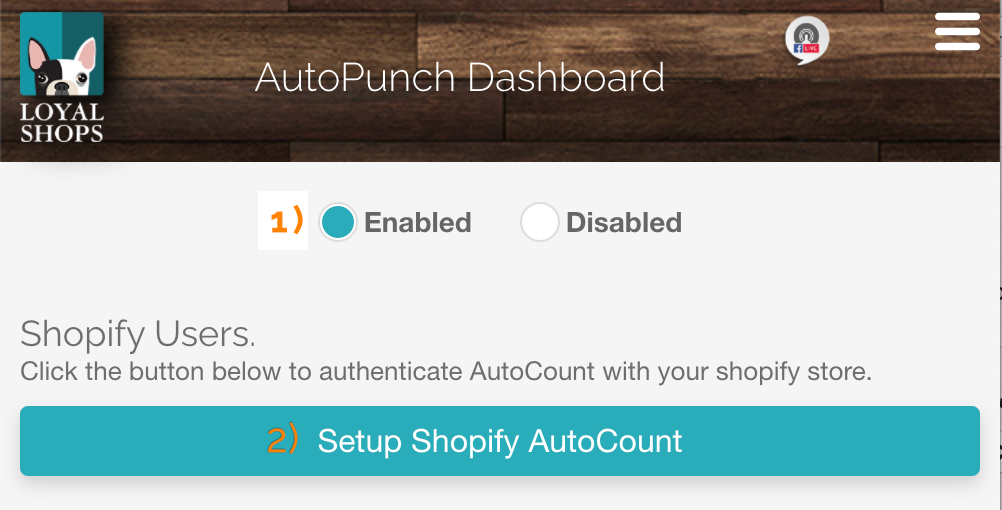 3) Enter the unique part of your Shopify Name in the "Shopify Store Name" field. If you get a Shopify prompt, agree to allow LoyalShops to access your shop so we can read purchases and customers' info for your loyalty program.

4) If you wish to punch previous days' purchases, choose how far you want to go back.
5) Choose Submit.