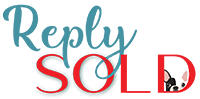 ReplySold Selling Flow & Checkout
ReplySOLD will automatically create carts in Shopify with customer claims and customers will receive the link to their cart attached to their winning comment response from ReplySOLD. Your previous ReplySOLD Shoppers will also receive their cart links in FB Messenger. When a NEW customer shops on a ReplySOLD show, we do not immediately have the ability to send them their cart via FB Messenger.

Once a customer claims, we give all customers their link for checkout (all checkout links will register someone first, if needed). They can also comment "Register" or "Checkout" anytime during the live to get their link. Remind new customers a few times during the live and especially as your wrapping up the live to get there from their claim or from commenting either "Register" or "Checkout" (your choice). Also, they can PM the page after the live with "Register" or "Checkout" as well to get their registration and/or to checkout.

So there are many ways to get customers to register. 15 minutes after a live, if the customer hasn't checked out and we have their email address, we will send an email invoice for checkout. After 15 minutes, it's good to look in Sales History and if you still see some customers with no email address listed next to their name and claims, enter their email address there if you have it and it will send them an email invoice for checkout. If you do not have their email address, copy the checkout link for them "
www.ReplySOLD.com/###
, by clicking on it next to their name in Sales History, then go to FB Messenger or the Live, find their name, and send them the cart link via Messenger.
Once a customer registers once, we can and will send their cart links via FB messenger going forward as well as in response to each claim win.