Barcode Scanners for Live Assistant Pro - The affordable Netum NT-1228BL

Live Assistant Pro and Live Assistant Pro should work with any modern barcode scanner. Below is a model we have tested and know works well for an affordable price.

The Netum NT-1228BL is an affordable barcode scanner for Live Assistant Pro. It works well with barcodes, has good speed reading barcodes, and at around $34, very affordable.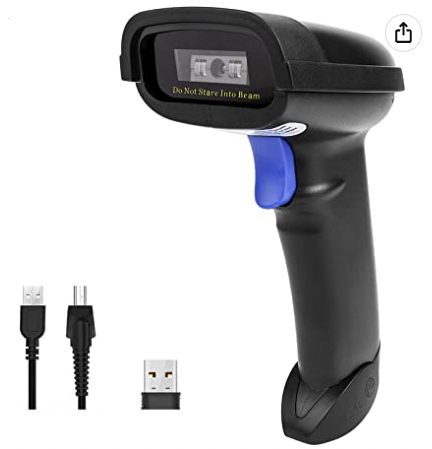 This barcode scanner can connect to phones, tablets, and computers. The devices either need Bluetooth or an available USB Port. The Scanner includes Bluetooth, a USB adaptor if you don't have Bluetooth and a USB cable for wired use and charging.

In most cases, I recommend using Bluetooth, so make sure you follow the directions in the manual, including scanning the Bluetooth barcode to put it into Barcode mode.

I feel the barcode scanner is a bit slow on initial startup (a few seconds). So for it not to slow you down during a live, set the timeout on the barcode scanner to 10 minutes or 30 minutes to power off.. There are barcodes in the manual you can scan to set auto off at 10 minutes or 30 mintues. That way, anytime during the live, you don't have to worry about startup time.